Live independently, with extra support when you need it
Our extra care housing is designed with later life in mind. Suited to those who want to live independently but need a helping hand with day-to-day living, you will be supported by our on-site care team while enjoying the freedom that comes with having your own home.
All our accommodation comes with its own front door, kitchen, bathroom, heating, bedroom(s) and pull-cord system, and is available to older people who require a minimum of five hours of care per week.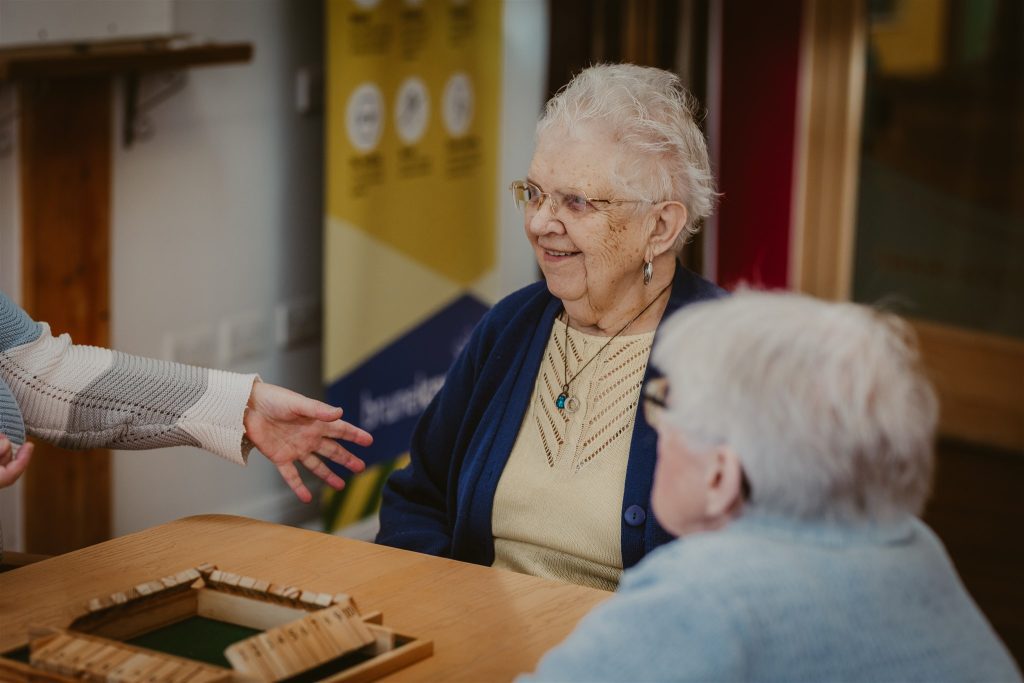 About extra care
24/7 on-site care team
For people who require a minimum of 5 hours care per week
Located on secluded, shared housing schemes
Restaurant service on-site, providing three nutritious meals a day
Regular group activities arranged on-site
Help with everyday tasks like washing, dressing, laundry, ironing and shopping
The ABC Centre offers 56 self-contained flats in Hengrove, with a care team on hand to support your needs.
Colliers Gardens offers 50 self-contained one and two-bed flats in Fishponds, with an on-site care team to support you.
Waverley Gardens offers 108 self-contained one and two-bed apartments available for rent in Bishopsworth.
Is extra care housing right for me?

'Extra Care Housing' (ECH) is the term used to describe homes that have been specially designed for older people, allowing them to maintain or regain their independence for as long as possible. ECH sites give tenants the peace of mind of knowing that care and support is available, when and if they need it.

Extra care housing is available to applicants who meet the following criteria:

Be aged 65 or over, or over 55 if registered disabled
Be a Bristol resident
Be in receipt of at least five-hours of care each week

Extra care housing may be right for you if you are starting to need some support with your daily living, but want to maintain your independence by living in your own self-contained flat.

All of our extra care accommodation is self-contained with its own front door, kitchen, bathroom, heating, bedroom(s) and pull cord system.

How will I be supported?

Our onsite teams can help and encourage you to live independently by assisting you with washing and dressing. All laundry needs, ironing, cleaning of your home, personal care, shopping and meal preparations can be provided, alongside administering your medication and supporting you if you wish to attend activities.

Can people visit me?

Of course! It's your own home, with its own front door – so you can choose who visits you and when. Visitors are welcome at the scheme at any time, day or night.

Is there an onsite restaurant?

There is a hot meal available in the restaurant every lunchtime (this must be paid for as it is not charged as part of the rent). Lunches are a good opportunity for tenants to get together and to meet with families and friends
and with other older people from the local community. For other meals, care and support staff can prepare food in your own kitchen or can assist you to prepare your own meals.

What happens if my care needs change?

If the changes are small then we will make adjustments without a formal review. However, if your care needs
change substantially a reassessment may be needed to ensure your care needs can still be met within the scheme. We will look into the availability for 'next step' care.

Are guest rooms available for booking?

All our Extra Care Housing Schemes have guest rooms available for visiting family and friends for a small fee. This fee is reinvested back into the charity. All guest rooms have en-suite bathrooms and must be booked in advance.

Why choose Brunelcare?

Founded in 1941, Brunelcare has over 80 years of experience providing high-quality housing, care and support for older people in the South West.

We support over 2,000 customers across Bristol, South Gloucestershire and Somerset, and are recognised for our expertise in caring for people living with a dementia.

In addition to our own rigorous self-assessment, we are regulated by the CQC. We also regularly seek our customers' views and feedback to ensure we maintain a high standard of care and high levels of satisfaction in our services.

As a charity, we do not pay dividends to shareholders. Any profit we make is reinvested back into the services we provide.

Our team

Brunelcare employees are skilled, friendly and qualified. We have designed our recruitment and selection methods to ensure that we recruit a high calibre of employees that suit the culture of each care home.

All of our colleagues are subject to a Disclosure and Barring Service (DBS) check before working for us and, once approved, they undergo a full induction programme and receive continuous training.

Our team is extremely experienced at working with older people who may be frail, have a learning disability, or have a long-term illness.