An update on Together with
Customers
27th Jan 2022 - Written by Katy Westaway
Reading time: 3 minutes
Read our latest update on Brunelcare's new 'Together with Customers' customer engagement scheme.
In Summer 2021 we launched 'Together with Customers', a brand-new customer engagement scheme that allows customers to have their say about the things that matter most to them. Through the scheme, we hope to give our customers a voice, to ensure that we are getting things right and holding ourselves accountable.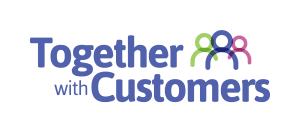 In our launch of the scheme, we announced plans to introduce a 'Together with Customers Charter'. This will include commitments about how we work, how we communicate with customers, and how we involve customers in the delivery of our services.
Over the last few months we have been busy preparing for the creation of the Charter. We have communicated with our customers to introduce the scheme and have been taking part in meetings and events to gather some initial feedback.
Since Summer 2021 we have:
Organised customer engagement events, introducing our customers to the Together with Customers Charter initiative and listening to initial thoughts and comments
Completed the Brunelcare Customer Satisfaction Survey 2021, the results of which we will use to help inform the Charter
Held three meetings with our Together with Customers Steering Group
We are now finalising Customer Advisory Groups and will be hosting the first of our meetings in mid-February.
Over the coming weeks, we will also be:
Completing a review of the feedback from the Customer Engagement Events and the Customer Satisfaction Surveys with our Customer Advisory Groups
Putting together the first draft of the Together with Customers Charter
Completing further Customer Engagement Events to review the Charter
Working with colleagues to inform them in more detail of the Together with Customers Charter
To help us gather feedback and prepare for the creation of our Charter, we are asking customers to get involved with our Customer Advisory Groups. If you would like to take part, please email [email protected]. The closing date is Friday 4th February 2022.
To find out more about the 'Together with Customers' scheme, click here.