Tweeting about penguins? By Teresa
Chinn MBE
23rd Apr 2021 - Written by Katy Westaway
Reading time: 3 minutes
It's been just over 6 weeks since the Brunelcare Excellence in Nursing Programme started and what a fantastic 6 weeks it has been. The Registered Nurses on the BEN Programme, as it has been affectionately called, have been working hard, plotting and planning and virtually meeting – all in the name of quality improvement. Some of the ideas that have been shared so far around improvement ideas within Brunelcare care homes have been very exciting indeed:
Amelia Thornton-Grimes from Glastonbury Care Home is exploring the use of sensory environments for people with dementia
Richard Flossman from Deerhurst Care Home is thinking about the environment and how his clinical area can be more sustainable
Jenny Radford from Robinson Care Home has been discussing improving the wellbeing of the people she cares for.
At the moment these are just seeds of ideas and over the next few weeks the BEN Registered Nurses will be developing these ideas into plans. With this in mind, it was an honour to welcome Jane Robinson, Queens Nurse (and huge nurse-led quality improvement advocate) to last week's BEN Webinar. Jane's presentation on quality improvement really helped the Registered Nurses start to turn their ideas into plans, as well as providing some useful background links – everyone now has 'Our iceberg is melting' (Kotter 2017) on their reading list and we can't wait to find out what the penguins on the iceberg get up to and discovering lots more about quality improvement.
It was also fantastic to welcome Jenny Clarke, Brunelcare's Marketing & Communications Manager, to the session who shared some brilliant top tips around using social media. Jenny has a wealth of knowledge that she kindly shared with the BEN Registered Nurses … right down to the concept of social media being a time sponge !! Jenny clearly inspired the Registered Nurses to sign up to Twitter and start sharing posts, as some have already got going. You can catch up with them on Twitter by searching #BrunelcareNurses.
As the programme progresses we are looking forward to hearing more from the Registered Nurses via tweets, blogs, videos, podcasts and journal articles and to hearing lots more about their projects of improvement … and we are most definitely looking forward to seeing lots of tweets about penguins!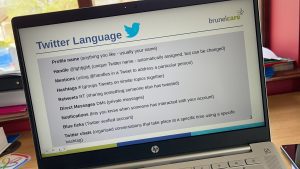 Read more about Brunelcare's Excellence in Nursing programme here.
https://www.brunelcare.org.uk/news/excellence-in-nursing-programme/