Brunelcare is proud to be
sponsoring local football kit
22nd Jun 2023 - Written by Brunelcare
Reading time: 3 minutes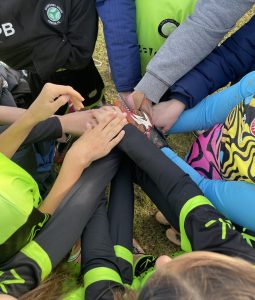 Brunelcare is proud to announce that we are sponsoring Emerson's Green Junior Football Club's under-12s Jaguars team kit!
Our sponsorship begins in the new season and will last two years from 2023-25. Starting in September 2023, members of the group will be wearing the Brunelcare-branded kits for all training and tournaments in the new season. 16-18 kits with the new Brunelcare logo have been ordered and will be worn in the coming months.
This sponsorship was made possible by one of our very own colleagues, Sarah Baker, a Clinician at our Orchard Grove Reablement Centre. Sarah was a football player herself and her daughter has followed in her footsteps by playing for the under-12s Jags.
"As an assistant coach and mother of one of the players, I wanted to express my thanks for our partnership with Brunelcare as our sponsor. Their support is truly fantastic, and we are incredibly grateful for the opportunities it provides us. With their sponsorship, we have received the necessary kit to embark on the girls' football journeys for the next two years, which includes our eagerly anticipated first competitive season." – Sarah
"This season coming will be officially our first season playing competitive football. It is something we are all looking forward to and all the challenges ahead of us! I would like to thank Brunelcare for sponsoring us for the next two seasons and hopefully beyond, as girls' football is now well and truly on the map and gaining so much support. It's fantastic to watch and be a part of." – Mike (manager)
We can't wait to follow the team's journey this season and are proud to be supporting them!