"Getting to the career level
I am as a woman
was very significant for me"
15th Mar 2022 - Written by Katy Westaway
Reading time: 3 minutes
Sandra Payne MBE, Director of Nursing and Care Services at Brunelcare, has devoted nearly 30 years of her life to working at Brunelcare.
Starting her career with us in 1993, Sandra has progressed in over six different roles at Brunelcare, and is now Director of Nursing and Care Services. In 2020, she received an MBE for her dedication to social care and response to the Covid-19 pandemic.
To commemorate Women's History Month, we spoke to Sandra to find out more about her outstanding contribution to social care and what nursing means to her.
Tell us about your career journey?
I qualified as a nurse in 1986, at the Bath School of Nursing, working in acute medical wards and specialised in cardiology at the Bristol Royal Infirmary (BRI). I went on to work as a District Nurse in South Bristol and then joined Brunelcare in 1993.
I started working at Brunelcare when Robinson House care home had just been built. I'd left my role as a District Nurse when my daughter, Bronny, was born, as I needed more time to look after her, so when she was 1 ½ years old I joined Brunelcare as a Weekend Bank Nurse, working shifts on Saturdays and Sundays for around 1 ½ years. I then became pregnant with my second daughter, Jenny, and left Brunelcare until she was six months old. I came back to Robinson House working evening shifts from 4-8 pm, gradually taking on more hours on a bank contract.
At the time nurses were scarce, so I was offered a full-time position within term time as Jenny was starting school. I took the role and worked Monday-Friday, picking up extra shifts in school holidays.
I started as a nurse, and as my career progressed I went on to become a Senior Nurse, Deputy Manager, Home Manager of Robinson House, Head of Clinical Excellence and finally a Director of Nursing & Care Homes in 2019. In 2021, I also picked up responsibilities for our community care service, so I am now Director of Nursing & Care Services.
I've received lots of qualifications, including a Teaching Assessor qualification, Registered Manager qualification, End of Life Care BSc. Having my teaching assessor qualification means I've been able to help colleagues get their NVQs and support them through their training, which has been really rewarding.
Brunelcare has always invested in me and my progression, and this has helped me get to where I am today.
What is your proudest achievement?
The thing I'm most proud of during my time at Brunelcare was leading on the build of our new care home and reablement centre, Little Heath. Getting Little Heath over the line was a massive responsibility, and I was really proud to register it and see it open in April 2020. Little Heath provided lots of support during the pandemic by relieving some pressure on the NHS.
Tell us about receiving your MBE, what was that like?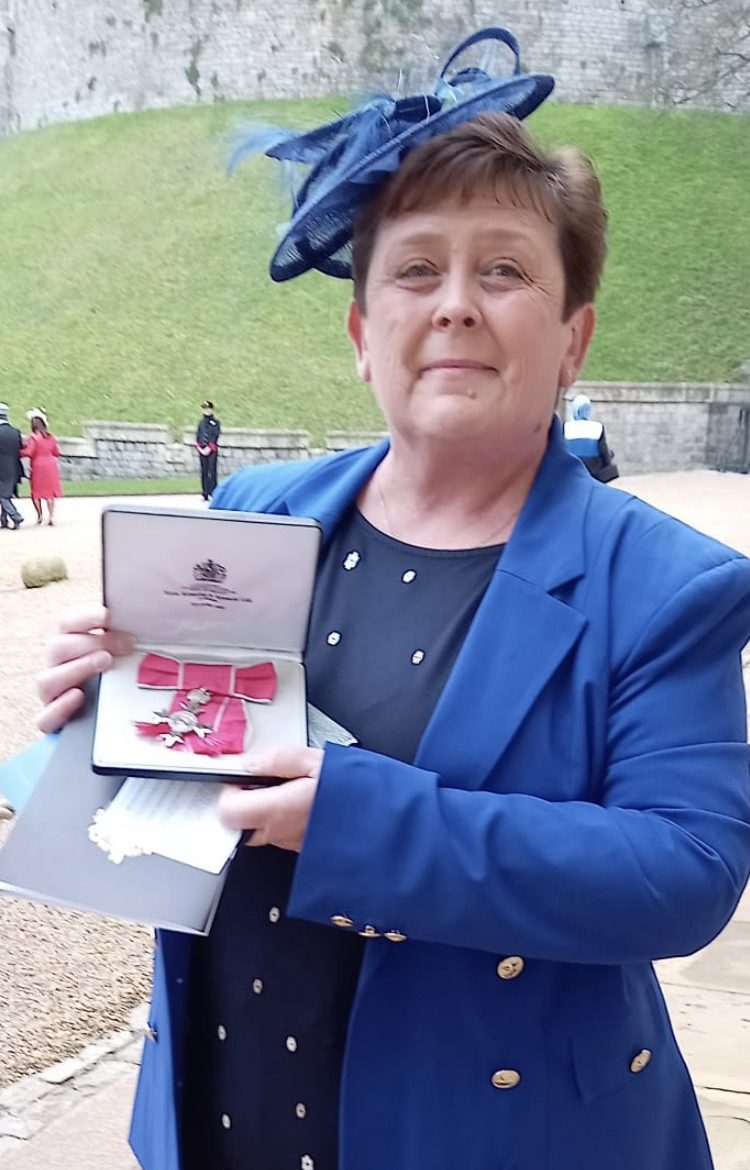 I received an email from St James's Palace on a Saturday morning to say that I'd been nominated for an MBE. When I first found out I'd been nominated, I thought it was a hoax! I texted my husband Steve and he Googled it, and that's when we found out it was a real nomination. The MBE nomination was for services to social care and response to the Covid-19 pandemic.
It felt really weird; I went to Robinson House on the day and kept reading the email again and again, not believing it was real. It was so difficult not being able to tell anyone.
At the time, my mum was a resident at Robinson House and she was very unwell with a chest infection, so I decided to tell her about my nomination. I visited her in her room and I asked her if she could keep a secret as I had some news. When I told her I'd been nominated for an MBE, her face lit up for about 30 seconds and she said 'Bloody hell, that's good!". It had been a while since I'd seen my mum's face light up like that, so it was a really heartwarming moment being able to tell her and see her react to the news.
On the 10th of October at 10:30 am, I was finally able to tell everyone, so we set up a big Zoom call with my entire family to tell them the news. It was really special and they were very proud!
Around a year later, on December 15th 2021, I went to Windsor Castle and received my MBE from Prince Charles, which is a day I'll always remember.
What are your highlights of working in social care, and why do you enjoy it?
Getting to the career level I am as a woman was very significant for me. I come from a working-class background, so it's taken lots of learning and continuous development to get where I am.
I've always wanted to be a nurse since I was little. No one in my family worked in nursing, but caring for people and helping others is just something that came naturally to me from an early age. I used to play nurses as a child.
It's my comfort zone, working in nursing. While I'm a Director now, I still practise nursing at times when it's needed and I slip easily into that caring role. It grounds you working in care because you remember what you're here for.
The progression opportunities have kept me in social care for nearly 30 years, I really enjoy the continual development of being able to learn new things and make a real difference in people's lives.