International Friendship Day 2021
30th Jul 2021 - Written by Katy Westaway
Reading time: 3 minutes
This International Friendship Day, we want to celebrate some of the fantastic friendships that have been built between our community carers and clients.
Building friendships has been known to have a positive impact on mental health by tackling loneliness, boosting happiness and reducing stress. Our community carers have formed some inseparable friendships with clients at Brunelcare, and we want to share some of their heartwarming stories.
Carol and Brian
Carol has cared for Brian for an incredible 11 years! The pair have built a strong friendship during this time and love to catch up on their favourite TV dramas.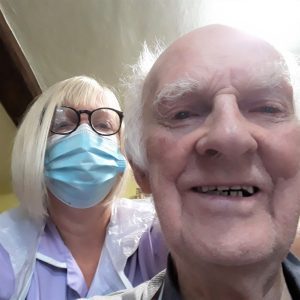 ❝
I always look forward to seeing Brian as we share an interest in old movies, music from the '50s and '60s, and having a catch up with our favourite dramas on TV.
Brian always manages to find the funniest stories in his newspapers that we have a laugh about at lunchtime – it's a great way to end a shift!
❞
❝
I really enjoy Carol's visits. She is always a friendly face, and she's kind and caring even in a crisis.
❞
Lauren and Pam
When Lauren started caring for Pam, they instantly bonded. They now look forward to spending time together and always make each other laugh!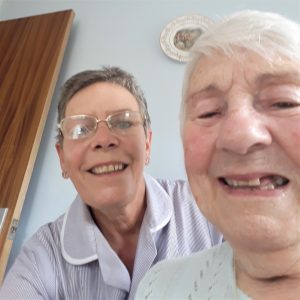 ❝
Pam is just a joy to visit. We bonded straight away and we laugh all the time, she's a proper giggler! We are good friends, as well as her being my client.
❞
❝
Lauren is the most caring person I know and she always goes the extra mile. I never have to ask her to do anything, she just does it. I really look forward to her visits.
I've been receiving care from Brunelcare since 2005, so I'm a Golden Oldie!
❞
Julie and Brian
Brian has been receiving care from Julie for five months. They first bonded over their love of gardening, but their shared sense of humour keeps them laughing during every visit.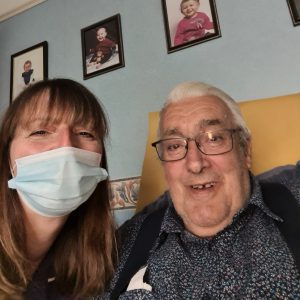 ❝
When Brian first joined us, I visited him daily to set up his care package and immediately got on very well with him. We have great banter and share a love of gardening. Brian always shares his experience and gives me great advice – my tomatoes are looking great thanks to him!
He and his lovely wife Jill said they are extremely happy with all the carers, everyone is very kind and cheerful. I love visiting Brian; we laugh from start to finish. It doesn't feel like work.
❞
❝
When the carers come in at the start of the day in a cheerful mood, it rubs off on me and makes me feel instantly better.
❞
Brian's favourite quote is "Laugh and the world laughs with you, cry and you cry alone."
Cristina and Shirley
After supporting Shirley following her discharge from hospital, Cristina has become Shirley's best friend and is always on hand to help her with anything she needs.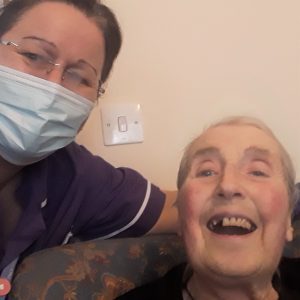 ❝
When I first met Shirley, she had recently left hospital and I helped her with everything she needed as she had no family nearby. Shirely felt so supported and appreciated that she now rings me for support whenever she needs anything. She often says that she doesn't know what she would do without me, and that I'm her best friend!
I really like Shirley, and I will do anything to support her.
❞
Jade and Val
Val recently went on her first day out with Jade after being unable to leave the house for four years. They have since been on a second trip to the pier, and have formed a wonderful friendship.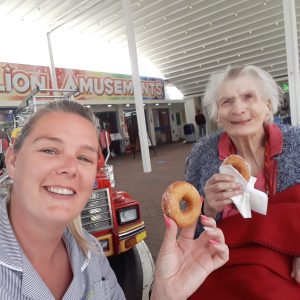 ❝
I started taking Val on days out as she had been wanting to go out for a long time. I had a three-hour sit with her and took her out for a stroll around Burnham, and she loved it. She was so grateful. We went on a second trip to Burnham pier, and she had two hot doughnuts. I'm hoping that we can keep doing this for her as she loves going out.
❞