Volunteers' Week 2021 – Issy
4th Jun 2021 - Written by Katy Westaway
Reading time: 3 minutes
This week marks Volunteers' Week, where we will be celebrating the invaluable contribution volunteers make to Brunelcare through their kindness and dedication. We caught up with our fantastic volunteer Issy to find out more about her role at Brunelcare, and why it is important to her.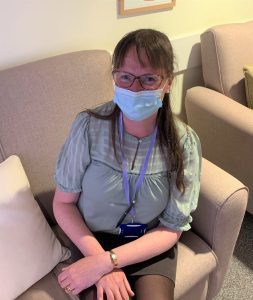 Issy started volunteering at Brunelcare because she missed being in a care environment after her 23 year nursing career came to an end due to ill health. After contacting us at Brunelcare, she was put in touch with one of our residents at Saffron Gardens, who she goes on 'walk and talks' with every Monday.
Issy said:
❝
It's been great getting to know them and the local area, we always laugh a lot too!
❞
When Issy was visiting Saffron, she noticed there was no one working on reception, so she generously offered to volunteer there too. Issy says she has loved getting to know the residents as well as the staff, as she has found everyone to be most welcoming and friendly.
Issy explained what volunteering at Brunelcare means to her, and how the pandemic has made it all the more significant. She said:
❝
Volunteering with Brunelcare feels like it has been a win-win situation for me as I have really felt appreciated by the residents in the flats as well as when I help out on reception. It has also boosted my self confidence having my work being so appreciated. The team at Brunelcare are fantastic.
As this pandemic has restricted all our lives so much, it has been really rewarding to be able to give something to the Saffron Gardens community, just by being there, and in turn it has made my life more fulfilled too. Thank you everyone at Saffron Gardens.
❞
We spoke to Shirley, who said:
❝
My mum looks forward to seeing Issy every Monday and they get on really well – they're constantly chatting! Mum's time with Issy has done her a world of good. I'm really grateful to have had Issy's help as it gives me a break and she always makes sure to keep me updated. She's been fantastic and I would give her 5 stars!
❞
Rhiannon who has supported Issy whilst she's volunteered on reception also had plenty to praise Issy for. She said:
❝
Issy's role on reception has been invaluable, she has provided much needed support and companionship to our tenants and developed strong relationships with them. During a difficult year, Issy had bridged the gap that we were unable to fulfill within the team, and has contributed in so many ways. She is just amazing and we are very lucky to have her.
❞
We would like to give a big thank you to Issy for all your help at Saffron – you've been an absolute superstar!
If you are interested in volunteering and, like Issy, would like to make a positive difference to someone's life, we offer a variety of roles to suit everyone.